Aboriginal Outreach Team
UNYA's Aboriginal Outreach Team provides street outreach and support, focusing on Indigenous youth under the age of 19.
Our outreach team will strive to meet you where you're at and help take care of your immediate needs. Building a safe, trusting relationship is one of our top priorities, and every member of our team is someone you can go to and feel comfortable asking for help. Outreach staff are focussed on your individual needs, and will support you and connect you to resources in a way that works for you.
Our outreach team can also let you know your options for other programs and services that you can access at UNYA and in the community, when you feel ready to do so.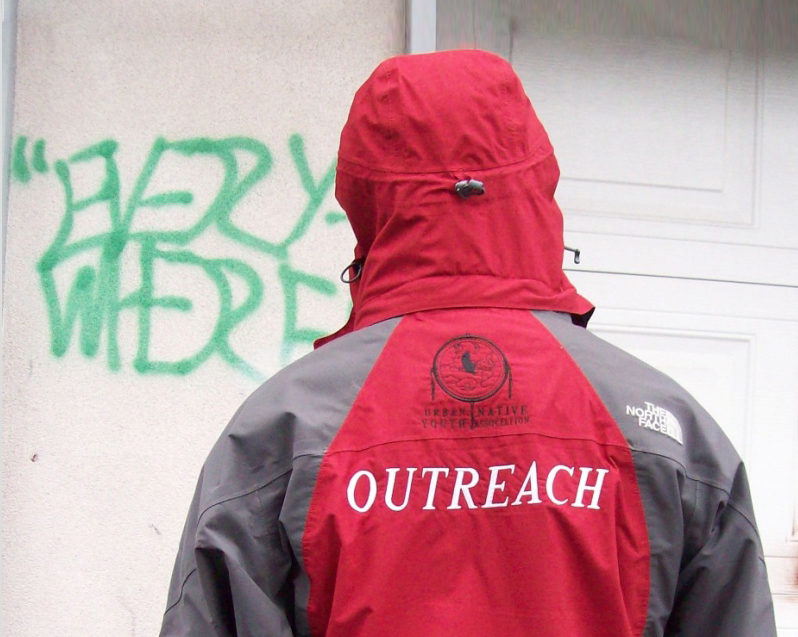 Program Activities
Information and education about safety, relationships, food, nutrition, and safe sex
Providing essentials to help meet immediate needs, such as bus tickets, water, snacks, warm clothing, food vouchers, and toiletries
Culturally-appropriate support and advocacy when you meet with your care team, treatment providers, probation officers, or other times when you need help making your voice heard
One-to-one support and help with day-to-day activities such as grocery shopping
Information about healthy options to help you make positive life choices
Education about harm reduction, clean needles and gear, and free naloxone kits
Attending ceremonies and community events
Information and referrals to other programs and services that support youth, families, and caregivers, both at UNYA and in the wider community
How To Get Involved
You can connect with our outreach team in the community seven days a week. Most days, we can be found downtown or in East Vancouver, although we're available to meet outside of these areas as well.
Youth under the age of 19 can self-refer to the program by reaching out by phone, Facebook, or email (contact info below).
Family and community members can also refer youth. We work closely with parents, family, guardians, social workers, counsellors, and community members. If you know a young person who needs help or who would be interested in talking to our outreach team, get in touch with us below.