Back to News
Employment Opportunity: On-call Relief Receptionist
October 6, 2021
About Urban Native Youth Association (UNYA) and Reception:
UNYA has been supporting the health and wellbeing of Indigenous youth in the Metro Vancouver area for over 30 years. As a respected non-profit, charitable organization, we recognize Indigenous youth as experts in their own lives, and strive to provide youth with programs and opportunities that are relevant and meaningful to them.
The Receptionist serves as the first point of contact for youth, families, community partners, and employees interacting with our office in-person, by telephone, or by email. UNYA Receptionists also provide general administrative support to the organization. Individuals must be able to contribute to and work well with the overall UNYA team to provide support to and assist youth in connecting with relevant community resources.
Highlights of this opportunity:
Are you passionate about empowering Indigenous youth? Do you have a knack for building positive relationships?
Are you strategic, creative, and dynamic in your approach to youth work? Does working within a fast-paced environment energize you?
If you said yes, then this is the opportunity for you!
Duties and Responsibilities
1. Serve as the first point of contact for youth, families, community partners and others interacting with our office in-person, by email, or by telephone on a multi-line system. Provide general information regarding UNYA, its mandate, programs and services. Respond promptly and effectively to enquiries regarding community programs, supports and services. Make referrals to specific UNYA and community programs and services as appropriate to serve the needs of youth and families and other community partners.
2. Work as part of a team to maintain a network of positive working relationships with other service providers in order to ensure effective referrals and access to a good continuum of care for youth.
3. Work with other team members to collectively establish and maintain a positive, non-judgmental environment that is accessible and relevant to the needs of Indigenous youth.
4. Provide general administrative support to the organization. Place calls to request courier service, repairs, Board signatures, etc. Prepare outgoing mail and basic correspondence. Sort and distribute incoming mail. Check, sort and distribute faxes, emails, meeting notices, payments, and other correspondence.
5. Liaise with various programs, program staff, and Board members to update weekly schedules, arrange meetings, confirm participation, and share information. Coordinate staff meetings, and room and company vehicle bookings.
6. Prepare and disseminate information in preparation for meetings (i.e. minutes, memos, etc.) as directed.
7. Maintain and tidy administrative area. Organize, inventory, order and re-stock office supplies as needed.
8. Respect and maintain confidentiality of staff issues within the team, with the exception of the Director of Youth Engagement and/or other supervisors. Respect and assure youth of confidentiality in the community and with other service professionals.
9. Regularly consult with and report to immediate supervisor(s).
10. Perform any other duties required to support the day-to-day administrative operations of UNYA.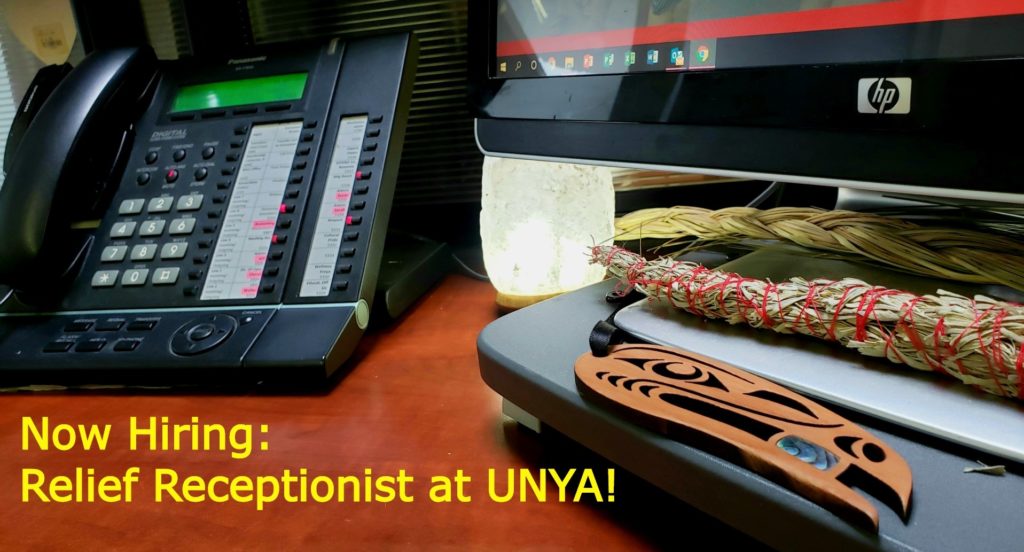 The Receptionist serves as the first point of contact for youth, families, community partners, and employees interacting with our office in-person, by telephone, or by email.
Qualifications and Conditions:
– Relevant educational experience, 2 years of experience working in office administration/a related field, or a combination of relevant education, training, and experience.
– Experience working with Indigenous youth and/or community organizations.
– Broad based knowledge of the family and social issues that Indigenous youth face today, including the intergenerational impacts of the residential school system on Indigenous families and communities, and a good understanding of Indigenous cultures and traditions.
– A good working knowledge of community resources in Vancouver, particularly youth & Indigenous-specific resources.
– Demonstrated ability to work independently as well as part of a team.
– Demonstrated ability to identify with mandate, policies and procedures of the organization.
– Demonstrated strong computer proficiency, including the ability to work with Microsoft Word, Excel, Access, PowerPoint and Outlook.
– Demonstrated ability to multi-task in a fast paced environment while maintaining consistent attention to detail.
– Excellent organizational, communication (written and oral) and prioritization skills.
– Professional, prompt and positive attitude a must. Must possess tact and discretion, and be able to ensure confidentiality.
– Must have a criminal record check completed by and satisfactory to UNYA.
To Apply: 
Please email (hard copies will not be accepted) a resume and cover letter to the attention of the Director of Youth Engagement at [email protected]. Resumes will not be reviewed without a cover letter. No enquiries. Only those short-listed will be contacted. Closing date: When filled
UNYA accepts complete applications for advertised positions, only. You must state clearly on your cover letter which position you
are applying for. All applications must be sent in electronic form, to the email address specified on the posting.
Hard copies and unsolicited applications/resumes will not be reviewed, but immediately destroyed