Back to News
Now Hiring: Summer Job Opportunity for Overly Creative Minds (OCM) Program Youth Leader
May 6, 2019
UNYA has a full-time (F/T) summer employment opportunity for a Youth Leader in our Overly Creative Minds (OCM) arts and culture program.
The Overly Creative Minds (OCM) Youth Leader will assist OCM Program staff in developing and delivering diverse activities in a dedicated arts and culture space. OCM programming will include weekly and one-time projects related to a variety of traditional and contemporary art forms.
This position will also provide support to a number of our drop-in programs including, the Native Youth Learning Centre (NYLC), Aboriginal Youth First Sports & Recreation (AYF), and Aboriginal Youth Worker (AYW) Programs.
The overall goals of the project are to provide Indigenous youth with dynamic opportunities that empower them to develop their leadership skills, tangible knowledge, skills, and experience related to the professional and traditional art forms.
Qualifications:
• Must be between 15-30 years old.
• Responsible, punctual, and flexibile. Ability to work independently as well as part of a team.
• Strong written and oral communication skills. Excellent leadership, supervisory skills, and ability to maintain strong personal boundaries.
• Excel at positive youth engagement. Demonstrated knowledge and experience working with youth in small and large groups.
• A strong working knowledge of the family and social issues that Indigenous youth face today.
• Demonstrated understanding of and/or willingness to participate and learn Indigenous cultures, protocols and ceremonies.
• First Aid and FoodSafe certificates are an asset.
• Given the needs of youth accessing our services, preference will be given to qualified Indigenous applicants.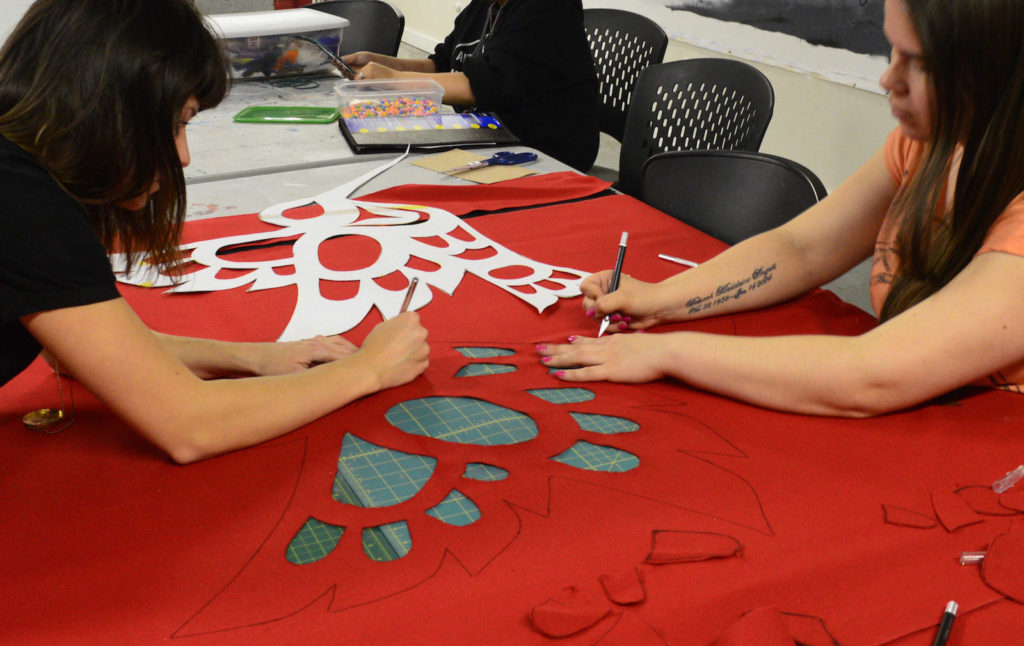 Provide Indigenous youth with opportunities that empower them to develop their leadership skills, tangible knowledge, skills, and experience.
Duties and Responsibilities:
• Provide ongoing leadership in the planning, coordination, and implementation of programming for a studio dedicated to arts and culture.
• Assist in the delivery of NYLC, AYF, and AYW drop-in programming.
• Work as part of a team to ensure that activities are positive, safe and educational.
• Provide positive role modeling – positively interact with and supervise youth during daily workshops, learning activities, and group outings.
• Help connect youth to resources in the community, assist with planning, coordination of special programming.
• Recruit program participants through community outreach and networking.
• Assist in recruiting volunteers, developing and maintaining diverse partnerships with schools and other community organizations to benefit the OCM Program and maximize programming opportunities.
• Complete daily reports, workshop evaluations, assist with other administrative tasks.
• Consult with and report to immediate supervisor on a regular basis.
• Positively contribute to team meetings for ongoing evaluation and adjustment of the program.
Salary: $15.50/hr
Term: 8 weeks (anticipated start date June 24, 2019)
To Apply:
Please submit a cover letter (stating the position that you are applying for) and a resume to the attention of the Director of Youth Engagement at [email protected]. Resumes will not be reviewed without a covering letter.
No enquiries. Only those short-listed will be contacted. Closing date: June 10, 2019
UNYA accepts complete applications for advertised positions, only. You must state clearly on your cover letter which position you are applying for. All applications must be sent in electronic form, to the email address specified on the posting. Hard copies and unsolicited applications / resumes will not be reviewed, but immediately destroyed.