Back to News
Now Hiring: Full-Time Clinical Counsellor at Urban Native Youth Association
July 31, 2019
Update: This position is now closed.
The UNYA Aboriginal Youth Clinical Counsellor provides community-based outpatient counselling services. The program is rooted in UNYA's Philosophy of care approach including: two-eyed seeing, harm reduction, culture as therapy, youth/person centred, trauma informed care and offers youth a range of clinical and cultural healing modalities and supports through both individual and group service. The position is 40 hours per week. Regular hours are weekdays, including some evenings and occasional weekend work. Schedule may be adjusted to meet program needs. The Clinical Counsellor reports directly to the Director of Clinical Programs.
Qualifications and Conditions:
Masters-level Clinical Counsellor with a minimum of 2 years of relevant experience working with marginalized youth.
Recent/related experience providing professional counselling services to Indigenous youth and their families who are struggling with concurrent and/or root causes, such as mental health issues, developmental/cognitive challenges (i.e. FASD), family breakdown and intergenerational trauma, abuse, exploitation, trauma, disconnection from supportive adults, and suffering from effects of colonization such as poverty, racial discrimination and homelessness.
Demonstrated comprehensive knowledge of psychotherapeutic and counselling skills, including narrative & solution-focused counselling, youth/person-centered collaborative practices, and culture as therapy. Demonstrated ability to assess and respond appropriately to emergent situations.
Demonstrated working knowledge of adolescent developmental concerns, youth substance use and mental health issues, and their interactions.
Demonstrated strong understanding of, and a willingness to participate in, Indigenous protocols, ceremonies, and other practices. Specifically, must demonstrate a strong knowledge of Indigenous healing modalities and a strong working knowledge of other community resources in Vancouver, particularly Indigenous-specific and youth A & D resources.
Demonstrated ability to plan and facilitate workshops and other programming focused on traditional Indigenous medicines and protocols, Indigenous history, substance use, self-esteem building, life skills, relationships, abuse, trauma, traditional Talking Circles, and other issues affecting youth.
Demonstrated strong written and oral communications skills – including the ability to prioritize and complete multiple tasks, maintain accurate case management files, and prepare reports. Must also possess strong knowledge of Microsoft Office suite.
Must also demonstrate the ability to identify with the mandate, policies and procedures of the organization.
Must have a valid Class 5 B.C. Driver's License. A driving abstract will be required upon request.
Must have a personal support system and self-care plan in place.
Must have a criminal record check completed by and satisfactory to UNYA.
Given the needs of youth accessing our services, priority will be given to qualified Indigenous applicants.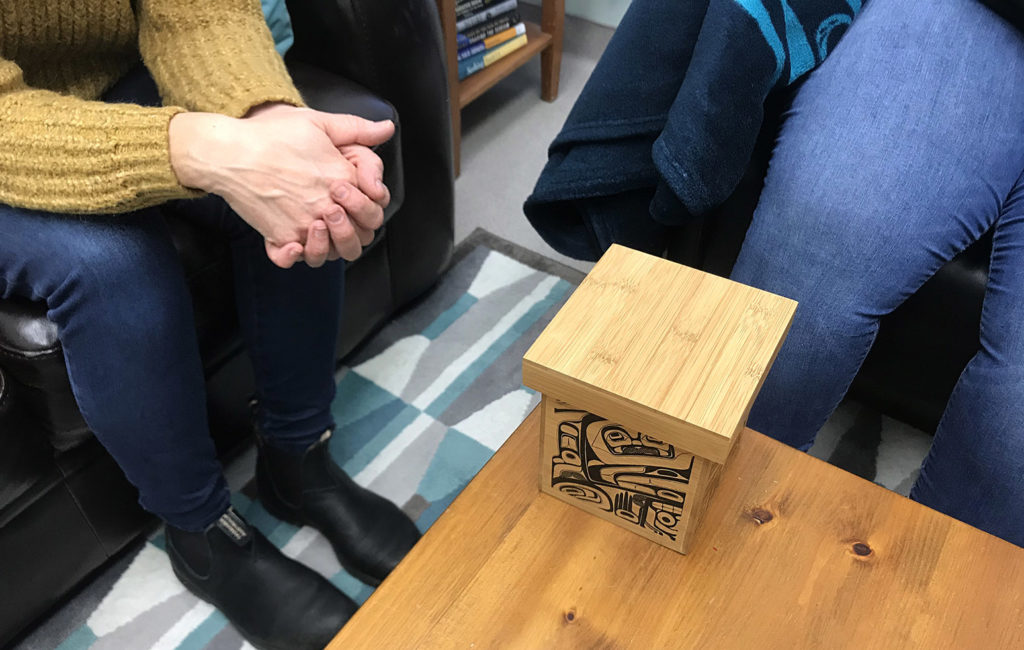 The UNYA Aboriginal Youth Clinical Counsellor provides community-based outpatient counselling services.
Duties and Responsibilities:
Plan, develop, and implement substance use counselling services focusing on youth in East Vancouver, Commercial Drive and Grandview-Woodland neighborhood.
Offer individual youth and family counselling, substance use assessments, referrals to recovery and treatment programs, crisis support, substance use and harm reduction education and referral information, aftercare counselling, transition support, group activity-based counselling (social, cultural/recreational), support groups, and Indigenous cultural teaching groups, ceremonies, cultural journeys, educational workshops, and community engagement and development.
Work in cooperation with others including: other UNYA programs/community partners, East Vancouver secondary school counselling departments, Britannia Secondary School, Britannia Community Centre, Teen Centre, VCH Substance Use Service Providers (YYAC and SACY), BYRC) as needed to plan, implement, supervise, and evaluate individual supports, daily and weekly programming, including workshops, and group outings (cultural, social, educational, and recreational.)
Actively assist in ongoing development and review of program components.
Assist with maintaining monthly statistics and written client reports and records in order to meet UNYA and funding requirements.
Respect and assure youth participants of confidentiality in the community and with other service professionals.
Attend regular weekly case management meetings as well as monthly UNYA staff meetings and development days.
Keep abreast of current social concerns and trends, and as required, attend professional development activities in order to remain informed regarding current issues affecting Indigenous youth.
Perform other duties deemed necessary by your Director to ensure the safe, healthy, and productive operations of the program.
To Apply: 
Submit a Cover letter (stating the position you are applying for), a Resume, and Contact information for (3) references via email to the attention of Director of Clinical Programs at: [email protected]. 
Incomplete applications will not be reviewed. No enquiries. Only those short-listed will be contacted. 
Closing date: Wednesday August 14th at 4:30pm.
UNYA accepts complete applications for advertised positions, only. You must state clearly on your cover letter which position you are applying for. All applications must be sent in electronic form, to the email address specified on the posting. Hard copies and unsolicited applications / resumes will not be reviewed, but immediately destroyed.