Back to News
Now Hiring: Full-Time Mentorship Facilitator
December 9, 2019
Urban Native Youth Association (UNYA) has one Full-Time employment opportunity for a Mentorship Facilitator to join our Mentorship Program.
The Mentorship Program provides trained volunteer mentors to Indigenous youth, ages 12 to 18. The program is youth-driven and aims to provide youth with the confidence and tools needed to make positive choices and changes in areas such as mental wellness, sports and recreation, education, employment, substance use and peer-relationships. The Mentorship Program strives to ensure that the matches made are life-long, which requires substantial program support for both youth and volunteer mentors. As UNYA's largest volunteer program, the Mentorship Program also undertakes coordinated outreach efforts to ensure qualified volunteers are continuously recruited, so no youth is left waiting too long for a mentor.
Position Overview:
Reporting directly to the Mentorship Program Manager, the Mentorship Facilitator is engaged in all aspects of the Mentorship Program, making it a diverse and rewarding role. The Mentorship Facilitator maintains a caseload of active matches, and works closely with youth and volunteer mentors throughout their entire participation in the program, including screening, matching, relationship monitoring and post-match support. The Mentorship Facilitator also assists the Mentorship Program Manager with all levels of volunteer recruitment, training and performance management, as well as actively markets the program to community stakeholders.
Hours of Work:
This position is 40 hours per week, including some evenings and weekends, scheduled to fit the needs of the program.
Compensation:
$1,856 bi-weekly, plus extended benefits after 3 months.
Start Date: As soon as possible.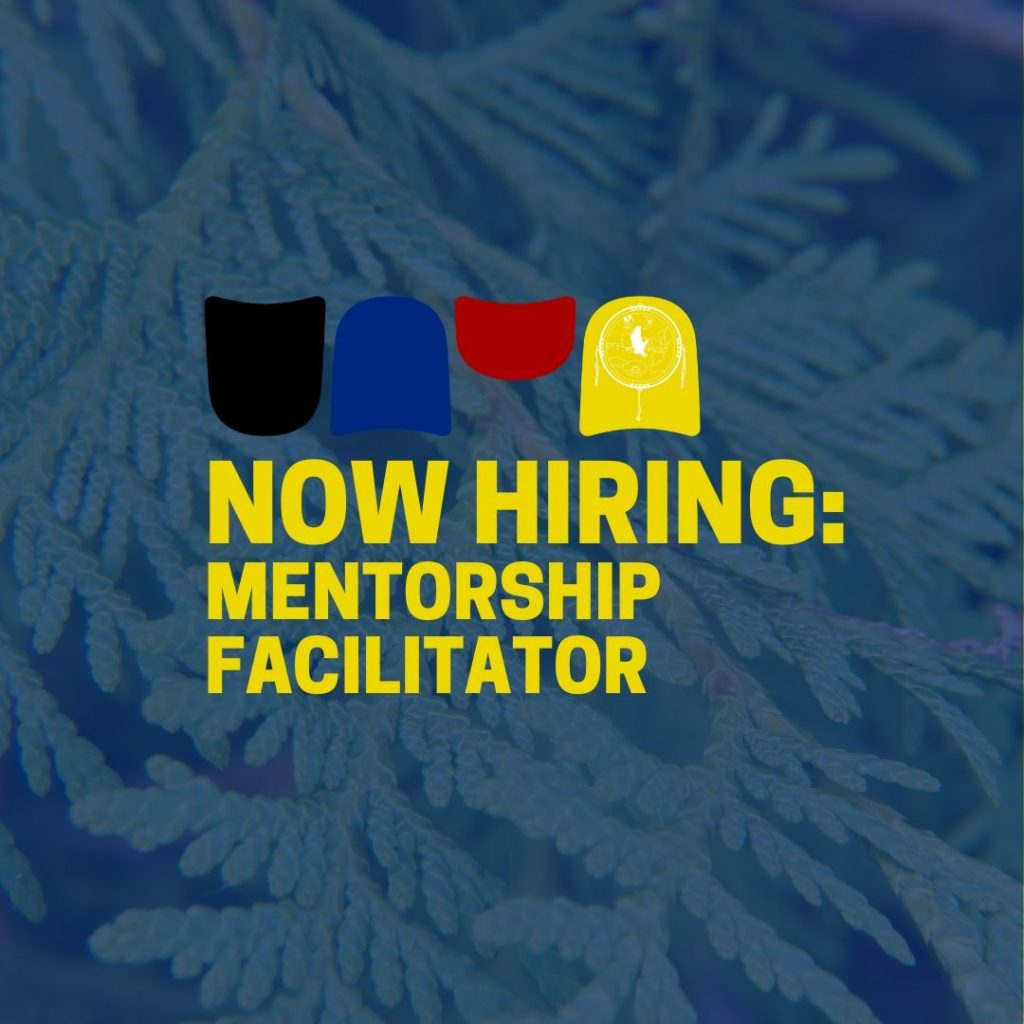 Our Mentorship Program supports youth with developing confidence and tools to make positive choices and changes in areas such as mental wellness, sports and rec, education, employment, and more.
Qualifications and Conditions:
1.     Bachelor's Degree plus minimum 3 years of recent experience in youth work, program development and volunteer management.
2.     Experience in screening, training and managing volunteers.
3.     Experience in planning and facilitating workshops, training opportunities and field trips.
4.     Demonstrated experience engaging and working effectively with vulnerable youth.
5.     Demonstrated knowledge of intergenerational trauma and challenges faced by Indigenous communities.
6.     Demonstrated knowledge of issues surrounding mental health, substance use, concurrent disorders and FASD.
7.     Demonstrated knowledge of trauma-informed care and harm-reduction approaches.
8.     Ability to work independently as well as part of a small team.
9.     Strong written and oral communication skills, including preparing volunteer newsletters, outreach materials and facilitating volunteer trainings.
10.  Detail oriented, and ability to compile accurate and timely reports, records and participant logs.
11.  Willingness to participate in Indigenous protocols, practices and ceremonies.
12.  Class 5 Driver's License, and satisfactory driving abstract.
13.  Ideally has own reliable, safe vehicle.
14.  Satisfactory Criminal Record Check, specific to the Vulnerable Sector.
15. People of all backgrounds are encouraged to apply. Given the needs of youth accessing our services, priority will be given to qualified Indigenous applicants. 
Duties and Responsibilities:
1.  Identify and connect with potential program youth and community referral sources.
2.  Provide full-cycle volunteer management, including marketing, recruitment, screening, training, on-going supervision and recognition.
3.  Source and plan creative and skills-based activities for program participants, including monthly group outings.
4.  Source and plan mentor training opportunities based on the changing needs of youth participants.
5.  Actively manage caseload to ensure youth needs are being met by their volunteer mentors, and take action when needed to ensure participants feel empowered and supported.
6.  Actively assist in ongoing development and review of program components with the Mentorship Program Manager.
7.  Assist with maintaining monthly statistics, reports and records in order to meet UNYA and funding requirements.
8.  Maintain sound financial and office management, ensuring program activities are within allocated budgets.
9.  Respect and assure youth participants of confidentiality in the community and with other service professionals.
10.  Establish and maintain a network of positive working relationships with other UNYA programs and external community stakeholders, including but not limited to social workers, counsellors, teachers, parents/caregivers.
11.  Provide advocacy services to youth, and ensure appropriate referrals are made, as needed.
12.  Provide youth-centred support that focuses on harm reduction and is trauma-informed.
13.  Attend monthly UNYA staff meetings and development days.
14.  Keep abreast of current social concerns and trends, and as required, attend professional development activities in order to remain informed regarding current issues affecting Indigenous youth.
15.  Perform other duties deemed necessary by the Mentorship Program Manager, to ensure the safe, healthy, and productive operations of the program.
To Apply:
Submit a cover letter and resume via email to the attention of Catherine Rana, Mentorship Program Manager, at [email protected]. Quote "Mentorship Facilitator Posting" in the Subject line. Incomplete applications will not be reviewed. No enquiries. Only those short-listed will be contacted. 
Closing date: Open until filled.